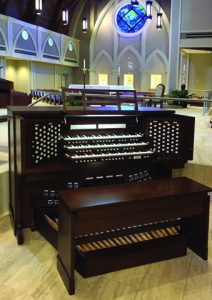 Since 1969, The Church Organ Group has been a Louisiana based company serving all of Louisiana, East Texas, Southern Arkansas, and parts of Mississippi. We service all organs and are the exclusive authorized sales representative for the Allen Organ Company of Macungie, Pennsylvania.
The Church Organ Group has installed over 725 church organs during our tenure, and continue to do so every year!
If your church is considering the purchase or rebuild of any organ, then we want to talk to you. We incorporate the latest digital technology in every organ we sell. Additionally, we have a Service Department that is second-to-none within our territories!
We are proud to serve the following locations with sales and service:
In Arkansas the following counties: Ashley, Chicot, Columbia, Hempstead, Howard, Lafayette, Little River, Miller, Sevier, Union
ALL OF THE PARISHES IN LOUISIANA
In Mississippi the following counties: Adams, Amite, Attala, Choctaw, Claiborne, Clarke, Copiah, Covington, Forrest, Franklin, George, Greene, Hancock, Harrison, Hinds, Holmes, Humphreys, Issaquena, Jackson, Jasper, Jefferson, Jefferson Davis, Jones, Kemper, Lamar, Lauderdale, Lawrence, Leake, Lincoln, Madison, Marion, Neshoba, Newton, Noxubee, Oktibbeha, Pearl River, Perry, Pike, Rankin, Scott, Sharkey, Simpson, Smith, Stone, Walthall, Warren, Washington, Wayne, Webster, Wilkinson, Winston, Yazoo
In Texas the following counties: Angelina, Bowie, Camp, Cass, Gregg, Harrison, Marion, Morris, Nacogdoches, Panola, Rusk, Sabine, San Augustine, Shelby, Titus, Upshur
We look forward to meeting with you and learning more about how we can serve you, and your parish.
We also suggest taking a very close look at the Allen Organ webpage "The Art of Organ Building" located under our WHY ALLEN menu above, to learn about the three key PERFECTION concepts that make an Allen Organ a pleasure to own and play!
For more organ information please call The Church Organ Group at (504) 326-1990.